Field Services
Scott Armature offers a full line of field services including onsite repair, technical support and preventative maintenance. Our services include:
Turn-Key Jobs: Removal, Refurbishment and Reinstallation
Troubleshooting AC Induction and Synchronous Motors as well as Generators
Troubleshooting DC Motors and Generators
AC & DC Motor and Generator Repair
Bearing Inspection and Replacement
Rewinding Stators on Site
Cryogenic Dry Ice Cleaning Windings
Outage and Turn-Around Support
Offline PDMA Motor Circuit Testing
Vibration Analysis
Vibration Condition Monitoring
Field Balancing Rotating Members
Laser Alignment
Offshore Motor and Generator Services
Water Survival Huet Trained Service Personnel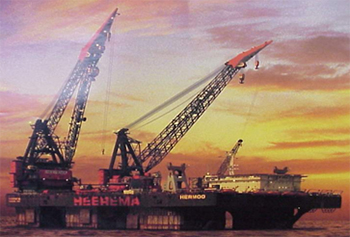 International Service Calls
The SSV HEEREMA, on station in the Gulf of Mexico. Scott Armature, LLC supplied repair and support service to one of the main generators. Motors, Generators, and Propulsion Drive Motors are serviced on board or at our plant. Our crews can ride with the vessel to it's final destination while repair work is being performed. This is but one example of the many services our company offers.